Laptop Buying Guide: How to Buy Right Laptop?
Buying a laptop can be a difficult thing to do. With some many options, brands, advertising and specifications it a challenge and many people simply settle for something someone at your local store recommends you. Ask for suggestions from your friends when buying some new gadget. You can get mixed ideas that are very confusing.
These suggestions friend friends or family will not lead you anywhere and you have to start it all over again, especially when it comes to buying a laptop.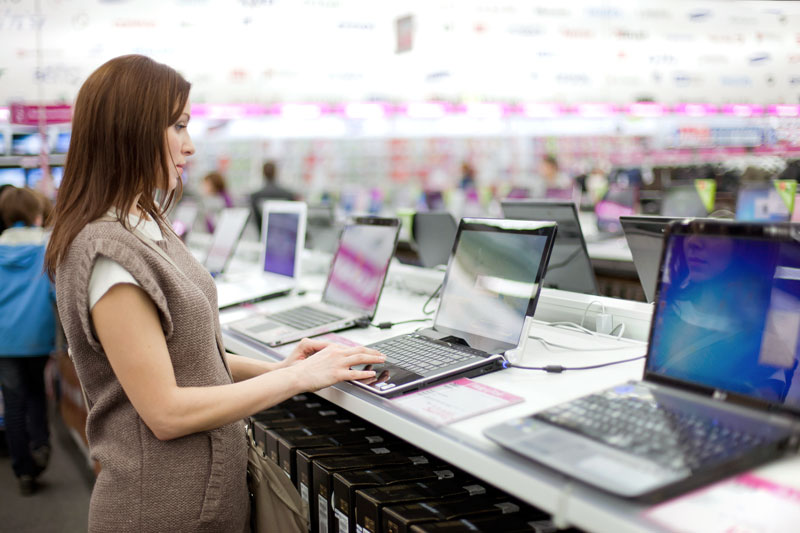 To avoid all this confusion, the following are a few tips that will help you to know what to keep in mind while buying a new laptop:
Select the Best Laptop Brand
Whether you like to try new things or stick with the traditional ones, it is advised to stick with top-notch brands when buying a laptop. A well-established brand assures good quality hardware and software. When it comes to customer service, make sure and read about what each specific company provides and how helpful they can be when you need some help. Customer service is something many people overlooked. Many times people will buy a laptop on based on the price, but they never consider how powerful having strong customer service can be especially when you need your computer fixed quickly.
Know Your Budget and Stick to it
Exceeding your budget for the sake of a few more features is not always good. Know your requirements first so that you can choose a laptop accordingly that has sufficient features to fulfill them. This can be a difficult task because many sales people will direct you to higher cost computers. Know what you need the laptop for and stick with features that fulfill your requirements. Do you really need that graphic card to watch YouTube videos or to do your school work with? Sometimes all your really need is a budget computer to accomplish your work and other times you something with more power or options to upgrade.
Choose the Processors Accordingly
There are several processors available these days that provide very high to moderate speed. If you need to process more work, you should definitely go for high processor speed as moderate processor speeds may slow down your work. However, it is advised to choose a CPU with minimum speed of 1.6 GHz. Today processors have multiple cores which enable you to have multiple programs open. A dual-core is more than enough to do multiple things like watch videos, do homework, and use the internet.
Prefer More Memory
RAM is usually confused with storage. RAM is what allows you to have 15 browsing windows, YouTube, Microsoft Office, and your web cam running all at the same time. Most laptops in 2015 come with 4 GB and 8 GB. Having more RAM is good, but not necessary for basic computer task.
Prefer More Storage
Do not compromise with storage space. If you are planning storing your music, pictures, and school projects you will need plenty of storage. Now we have Solid State Drives (SSD) which can be used to install your software on. SSD's are a lot faster than traditional hard drives, but a hard drive is more than enough you an everyday user. Many laptops now come with a 500 GB hard drive or more. Also know that some laptops allow you to swap out the hard drive to have more storage.
Choose the Laptop's Screen Size Wisely
Choosing the right size screen can be difficult. Many of us want a larger screen, but larger screens will cost you more too. What type of work will you will be doing on your laptop? Graphics and office work demand for a wider and broader screen while email can be composed and read on the smaller screens.
Look on Laptop's Portability Side too
Portability is a major concern. Having a laptop should allow you to move with it. If you want to bring your laptop to work is when you travel, choose one that is lighter and thinner. This will make things much easier for you.
Choose the Laptop with a Better Battery Life
Laptop batteries do not last as long as they are meant to. For basic needs, a laptop must contain a lithium-ion battery with minimum two years of life. You will have to do this research yourself and understand how much battery life you can get out of your battery.
Prefer Warranty
Everyone loves warranty except when it runs out. Laptops all come with a manufacturer warranty, but many stores will try and make you buy their own warranty. Warranties are expensive and sometimes will cost almost as much as your laptop! If you do not purchase a warranty and just stick with your manufacturer it can be a bit risky. If you choose to do this make sure you have a good computer shop that can do this kind of work. If you are looking for PC repair shop I suggest you go online and read some of the reviews and take into consideration what others have to say about specific shops. Most important thing is that consider a extended warranty when you buy a used laptop.
Buying a laptop can be as easy or as hard as you would like to make it. Know what you need the computer for and staying within budget are the two most important things to keep in mind when looking for a new laptop. Another alternative is buying a used laptop.