While desktop computers have faster processors and higher storage capacities, the benefits and brand new features associated with laptops are quite more, that made most students and business professionals to turn towards procuring the best laptops. In fact, they provide the user with easier access, greater efficiency and unrivalled echelon of portability.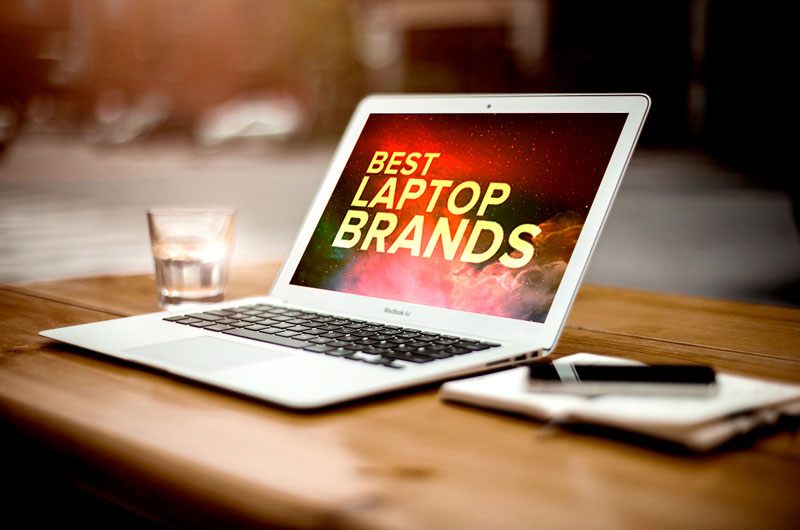 The biggest advantage of owning a laptop is its portability. The small size of the modern laptops allows users to carry it and work from anywhere. So, they can get their job done from any corner of the world.
The laptop consumes considerably less power when compared to a desktop computer and even can be operated on battery during power outage. In addition, there are several private and public wireless networks that facilitate easy access to users.
List of Top 10 Best Laptop Brands of 2016
Here we have list of 10 best laptop brands which are ranked based on their brand name, quality and after sales services. You can say these are the most reliable laptop brands for college students, for business, for gaming and ultimately for home users too.
#1 Apple – Design Hero and Class Apart
When it comes to brands that know how to innovate and change the game, Apple stands foremost among them all. They have essentially revolutionized many an industry with their products. Apple laptops are renowned for their quality and come with several ease of use features. The overall design tends to be excellent and elegant, which is the main feature of Apple machines. If you are not on budget, then it is a good choice.
Apple MacBook Air (13-Inch, Early 2015)
Pros: Features 4th Gen Intel Core processors and all-day battery life, yet it's still incredibly thin and light.
Cons: Nothing much here, literally.
Check Price on Amazon
#2 Asus – Fantastic All Rounder
ASUS is well known for their high quality components and is the topmost brand when it comes to affordable laptops. The laptops from ASUS are available in different prices ranging from $300 to $2399. The high end models are aimed at users who have big budget for getting a laptop. The designs are solid and pretty straightforward.
Asus Zenbook UX305
Pros: Super thin aluminum body, bright matte screen, quiet fanless design, extra long battery life.
Cons: Nothing here, literally.
Check Price on Amazon
#3 Dell – Unbelievable Performance and Services
If you are true Windows lover and want a perfect brand of laptop which has unbelievable performance and after sale services then Dell comes first. Dell is a renowned brand that has been designing laptops for masses in different price ranges. If you are looking for a laptop that worth the money you spend, you can go with Dell.
Dell XPS 13
Pros: Good battery life, small footprint, comfortable keyboard and attractive design.
Cons: Nothing here, literally.
Check Price on Amazon
#4 Lenovo – For the Professionals
The designs of Lenovo laptops tend to be gray or dark and nondescript. They lack in style but come with strong build quality. They are renowned for quality components and hardware. The laptops are reliable and last for a longer span of time.
Lenovo ThinkPad T450s (Business Laptop)
Pros: Good keyboard, nice battery life with extended battery, durable design, loud and accurate audio.
Cons: Screen brightness a bit below average.
Check Price on Amazon
#5 Acer – Known for Portability
Acer is ranked as the seventh leading laptop brand and is highly recognized among the public. It is common to see Acer devices at internet café. Whether you want utility, ultimate portability or simplicity, you can go with Acer.
Acer Travelmate P645
Pros: Sleek and lightweight, snappy keyboard, strong security features, better performance and battery life.
Cons: Above average webcam.
Check Price on Amazon
#6 Sony – Reputation in Your Hand
Sony VAIO laptops has gained lots of reputations from the users. The latest models are simplistic and sleep and facilitate touch screens to support windows 8. Their laptops are dependable and functions as advertised. It is a good idea to invest on Sony laptops.
Sony Vaio Pro 13 Touch
Pros: Excellent ultra portable laptop with more than just the latest Intel processors.
Cons: Non removable battery (but can add an external battery), few ports and connections, and integrated graphics only.
Check Price on Amazon
#7 Samsung – For All Budget
Samsung has garnered a lot of reputations in the last few years for their products. It has been manufacturing laptops in different price ranges ranging from $249 to $1399. Whether you are on tight budget or have enough money, you can get the one that gratify your needs.
Samsung ATIV Book 9 Plus 13-inch (2015)
Pros: Gorgeous, elegant design, bright quad-hd touch screen, powerful speakers and solid backlit keyboard.
Cons: A bit heavier than other ultraportables and some bloatware are pre-installed.
Check Price on Amazon
#8 Hewlett-Packard (HP) – Simply Best and Productive
HP is one of the most recognized and valuable brands when it comes to laptops. It offers laptops with a balanced combination of functionality and style. Its products are higher ranged among the laptop users. Their products are aimed towards a wide range of consumers
HP Spectre X360
Pros: Long battery life, stylish design, sturdy hinges and bright display.
Cons: Uncomfortable to hold as tablet, bottom runs warm.
Check Price on Amazon
#9 Toshiba – Redefined Engineering
Toshiba is one of the most popular laptop brands that manufacture and provide laptops in different price ranges. Their products ate more plain and come with boxy designs that seem to be unstylish. However, the hardware components are of very high quality and the bundled components will never get in your way.
Toshiba Portege Z20t
Pros: Epic battery life, sturdy and sleek design, dual styluses, crisp full-HD display.
Cons: Expensive, slightly top-heavy, low volumed audio, tablet runs hot.
Check Price on Amazon
#10 MSI – Makes Gaming a Serious Business
MSI is well known for dedicated graphic cards and high quality motherboards but now they have entered into Laptop manufacturing. While it is not the right choice for people on tight budget but their products have high quality components. Their laptops are available around $1,000-$1,500 in price and are pretty reliable.
MSI GT80 Titan
Pros: Elegant, yet imposing design, comfortable mechanical keyboard, Bright and vibrant display, digital touchpad transforms into number pad and removable top panel lets you upgrade components.
Cons: Poor battery life; even for a gaming notebook and speakers could use more bass.
Check Price on Amazon
This the list of top 10 best laptop brands in market that you can consider as a best buy.
Tips to Choose the Best Laptop for Students
If you are looking for a laptop buying guide then follow these articles, which will sure help you to pick the right laptop for you or someone you are buying for.
I am sure that this article about best laptop brands of 2016 with ultimate buying guide will be helpful to select the best brand of Laptops for yourself depending upon your purpose, use and budget. Also let us know which is your favorite from our Best Laptop Brands List as well.
Best Laptop Brands of 2016
Apple

Asus

Dell

Lenovo

Acer

Sony

Samsung

HP (Hewlett-Packard)

Toshiba

MSI (Micro-Star International)
Technical Expert's Review
What laptop should I buy? It's a question with tons of possible answers. But, a good place to start is to decide which brand deserves to be in your hand. Thus, we have thoroughly tested all the laptop manufacturers, taking a hard look at laptop's quality, value and selection, and other criteria too that should be checked.